The Swedish trade magazine "Maskinkontakt" (www.maskinkontakt.se) wrote an article about Hilltip in December 2017. The magazine writes about the advantage of Hilltip spreaders and snowplows, and why the company LP Entreprenad chose to equip ten of their Ford Rangers with Hilltip SnowStriker 2400-VP snowplows and Hilltip IceStriker 850 salt spreaders.
The article is written in Swedish.

10 st "Hilltip-utrustade" Ford Ranger pickuper levererade till LP Entreprenad
HillTip är tillverkare av utrustning för pickuper. Med återförsäljare över hela Europa ses Hilltip nu som den ledande leverantören i branschen. Gunnars Maskin i Kungälv utanför Göteborg är en av de svenska återförsäljarna. Roger Gillholm hade nyligen det stora nöjet att färdigställa 10 st Ford Ranger pickuper utrustade med V-plogar och spridare till LP Entreprenad.

Anpassade efter nordiska förhållanden
På frågan vad som särskiljer Hilltips plogar och spridare svarar Roger Gillholm så här:
– Hög teknologi och lättviktiga lättmonterade plogar. Spridaren kan dessutom sprida saltlake som är ett miljövänligt alternativ till vanlig saltspridning. Alla redskap är tillverkade efter nordiska förhållanden och håller mycket hög kvalitet.
LP Entreprenad är totalentreprenör för hela Göteborgsregionen och uppskattar flexibiliteten av att arbeta med utrustade pickuper. Bert Pettersson beställde utrustning och montering på 10 st Ford Ranger (sålda av Hedin Bil). Till bilarna valde han SnowStriker™ 2400 vikplog och IceStriker™ 850 spridare.
Innan leverans besökte Roger och Bert Hilltips fabrik i Jakobstad, Finland och båda var mycket imponerade av anläggningen.

Trenden går mot större flexibilitet
– Snöröjning med hjullastare och traktorer minskar, säger Frank Mäenpää, försäljningschef på HillTip AB. Fler och fler entreprenadföretag och andra som sysslar med fastighetsskötsel tvekar att binda upp stora maskiner som t ex hjullastare, som bara behövs när det kommer riktigt mycket snö. Pickuperna används ju året om, dels som redskapsbärare för både grönyte- och vinterväghållningsredskap och som transportfordon.
Bröderna Frank och Tom Mäenpää VD startade Hilltip 2004. Då var företaget ett renodlat importföretag men man började snart tillverka och utveckla egna redskap. Många av dom är kända produktnamn idag: HillTip SnowStriker™, HillTip IceStriker™, HillTip SweepAway™ m.fl.
– Spadarna har i dagarna satts i marken för att dubblera fabriken och öka kapaciteten, berättar Frank Mäenpää. Man levererar redan till hela Europa och är på god väg ut i resten av världen.

V-plogarna
Pickuperna som levererats till Gunnars Maskin är utrustade med HillTip SnowStriker™ vikplogar och spridare. Det smidiga HillTip Quick Hitch infästningssystemet samt dess lätta vikt gör att snöplogen är kompatibel med alla pickuper och nyttofordon på marknaden.
Den koniskt formade snöplogen är konstruerad i höghållfast stål, vilket utgör nyckeln till en slitstark snöplog som samtidigt är lättviktig. Snöplogen är pulvermålad med bästa tänkbara rostskydd. Snöbladet har justerbara, fjädrande slitskär som kan fås i polyuretan eller stål.
Plogens vingar styrs via CAN-BUS och av en 4-positions joystick inuti bilen. Ute på plogen finns ett 12V integrerat el-hydrauliskt aggregat, ett ventilbord med 6 magnetventiler samt chockventiler som skyddar cylindrarna från hårda stötar. Tack vare hydraulikens utformning är svängtiden snabb, 3 sek från höger till vänster för effektiv plogning.

Sand och saltspridare med saltlösningsfunktion
Hilltps IceStriker™ sand- och saltspridare är gjorda för pickuper och lätta lastbilar på hela den europeiska marknaden. Behållaren i polyeten samt komponenter i rostfritt stål ger låg vikt och långvarigt skydd mot korrosion och rost. Denna unika saltspridare med allt-i-ett konstruktion inkluderar även inbyggda behållare för det alternativa förbefuktningssystemet. De inbyggda behållarna i spridaren möjliggör en omvandling till vätskespridare eller s.k. kombispridare som befuktar saltet eller sanden. Materialbehållaren med dubbla väggar formar en integrerad tank som rymmer en vätskekapacitet upp till 450 l (modell 850 & 1100). Spridaren kan tilläggsutrustas med en spraybar på 2 meter och en slangvinda på 12 meter för halkbekämpning med saltlösning.
IceStriker™ har alltid GPS hastighetsstyrning som standard. Tidigare i år introducerade man även HTRACK™ för IceStriker™ spridare och SnowStriker™ snöplogar ämnade för pickuper och lätta lastbilar. HTRACK™ är helautomatiskt, vilket eliminerar allt manuellt jobb med dokumentation.

Hilltip erbjuder ett brett sortiment spridare: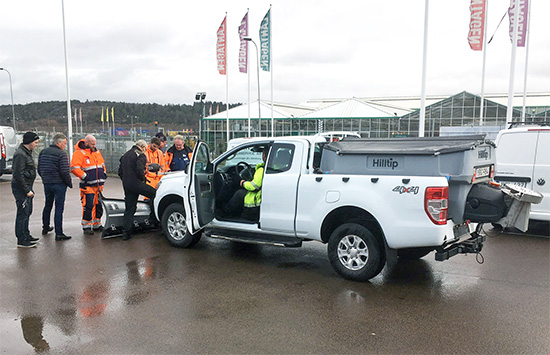 Besiktning av en av de levererade bilarna. LP Entreprenad har sedan tidigare HillTip spridare. De har varit till belåtenhet så Bert Pettersson bestämde sig för både plogar och spridare denna gång. Vi håller tummarna för en snörik vinter!

Fler produkter från Hilltip
SprayStriker™ saltlakespridare, SweepAway™ sopborstar och mobila högtryckstvättar är andra kvalitetsredskap från Hilltip.
För närmare information kontakta Frank Mäenpää på HillTip
Tel +358 50 59 83 026, Mail: frank.maenpaa@hilltip.com
eller återförsäljare Roger Gillholm på Gunnars maskiner
Tel 0303-22 10 18, Mail: roger.gillholm@gunnarsmaskiner.se
www.hilltip.com • www.gunnarsmaskiner.se

Om LP Entreprenad
LP Entreprenad utför entreprenader inom anläggning, skötsel (inkl vinterväghållning) och maskintjänster i Göteborgsregionen. Man erbjuder allt från enstaka maskintjänster till helhetsentreprenader inom utemiljö. www.lpe.se