The winter season 2019 Hilltip is launching tow behind trailer spreaders with up to 3500 kg total weight.
Hilltip's production facility ( 5500 m² ) in Pietarsaari, on the west coast of Finland, manufactures snow plows, sweepers, salt and sand spreaders. Our products are distributed across Europe via a wide network of partners. Hilltip is the leading supplier of snow clearing and ice control equipment for pick-ups and light commercial vehicles weighing up to 7,5-tons.
The new trailer spreader models extend the capability of spreaders to meet our customer's needs. Users have the flexibility to drive any pickup, SUV or car to combat icy conditions. "We are constantly finding new practical solutions for our customers" says Frank Mäenpää, Sales Manager & Co-founder.
The new addition of the IceStriker™ 1600, 2100 and 2600 spreader range that was introduced for trucks weighing between 3.5-10 tons in 2018, is now available as towable salt spreader for sizes 1600-2100L as well as the smaller combi spreaders 550, 750, 850 and 1100L. The 2100L spreader is the largest towable electric combi polyethylene spreader on the market. The electric spreader with a 12V / 24V control system holds up to 2100 litres of salt or sand. The salt spreader contains all the popular features of the well-known, smaller IceStriker™ models. The polyethylene hopper spreader is double walled and forms an integrated tank that can hold up to 900 litres of brine solution that can be used with one of the optional liquid de-icing systems. Using brine solution is an environmentally-friendly and cost saving de-icing method to traditional salt spreading. The Hilltip tow behind spreaders can all be supplemented with a pre-wet system as well as a spray bar for direct liquid de-icing treatment.
Due to the harsh conditions, we decided to both hot galvanize and powder paint the trailer chassis to ensure the best corrosion resistance on the market, "Well done is better than well said"- Benjamin Franklin-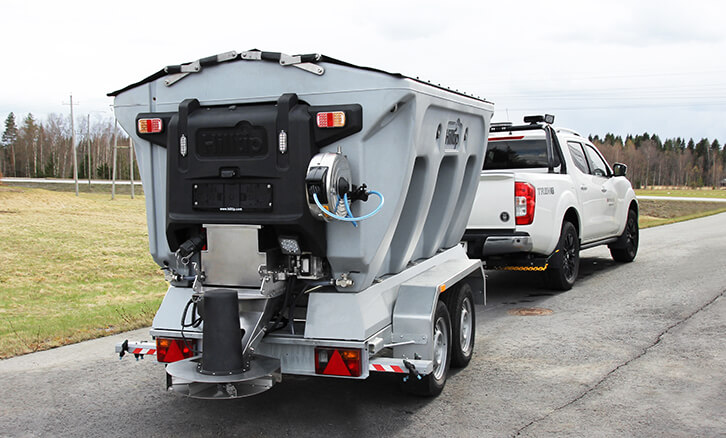 The smallest salt spreader from Hilltip's new towable spreader range is the IceStriker™ 380 . The stainless steel spreader is available with capacity of 380L solid material and 150L liquid with optional tanks installed. The spreader is mounted on a single axel trailer without brakes.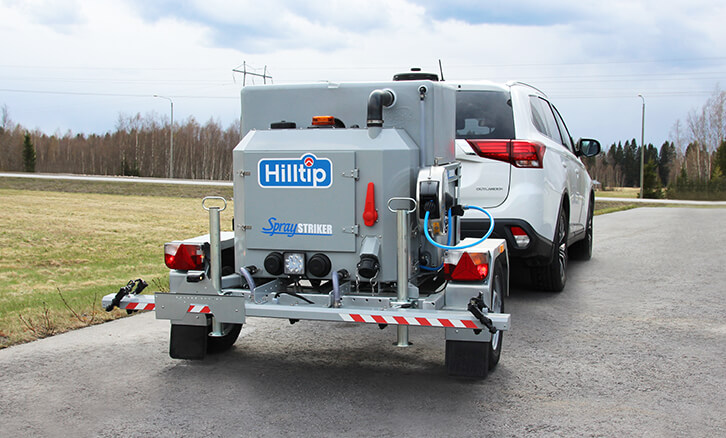 The 12V Spraystriker™ sprayer series is also adaptable to the single axel trailer ( 500L ) and dual axel trailer (1000-2000L models). The liquid de-icing trailer is the most efficient electric liquid sprayer on the market with the capability of spreading 20 ml / m2 with the speed of 25 km / h and spreading width 2 m. The maximum spreading width is 5 m, by the optional spraybar end nozzles.